The Round-Up Digitization Project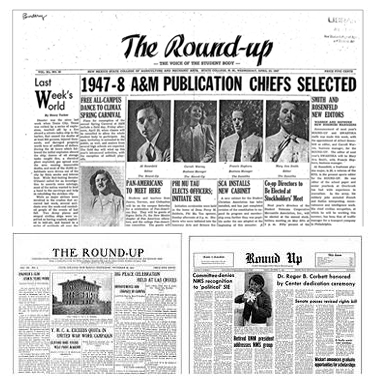 New Mexico State University's student run newspaper, The Round-Up, and its predecessor, The New Mexico Collegian, are not only the central source of readily available material on the history of NMSU, but also an important source of regional history. The student newspaper has been published since 1893 and it is one of the most highly requested resources in the Archives' collections at the NMSU Library. In 2009, due to the increasing fragility of the original newspapers, the Archives and Special Collections staff had to restrict access to them and was no longer able to permit photocopying of the early issues. Restricting access to this kind of historical information is detrimental to researchers, so NMSU Library committed to raise funds to digitize the newspapers from 1893 - 1999.
Thanks to the most generous contributions of the following organizations and individuals, issues of The New Mexico Collegian and The Round Up from 1893 - 1999 are now searchable online.

Associated Students of New Mexico State University
New Mexico Historical Records Advisory Board
Kevin J. and Barbara Barry, Round Up 1968 - 1971
Lana Cunningham Cooper, Round Up 1973 - 1974
Barbara Funkhouser, Round Up 1949 - 1952
Edward R. Lucas, Round Up 1959 - 1961
John (Gene) Michals, Round Up 1963 - 1965
Barbara Wunsch O'Gwynn, Round Up 1950 - 1951
Barbara Kerr Page, Round Up 1967 - 1971
Tim Parker, Round Up 1974 - 1977
Stephanie C. Thorp, Round Up 1963 - 1966
Don West, Round Up 1946 - 1950 - In Memory of Carroll Warren West and Ava Smith
Jess C. Williams III, Round Up 1982 - 1985